True patriotism is based on objective knowledge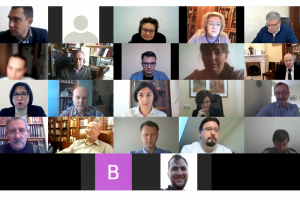 Everyday life during occupation, oral testimony and previously taboo stories from the history of the Great Patriotic War were in the center of attention of the participants of the Russian-Belarusian round table "Unknown pages of the history of the Nazi occupation of the regions of the RSFSR and the BSSR", which took place on October 21, 2021 and brought together researchers from various scientific, archival, educational institutions of the two countries. The organizer was St. Petersburg Institute of History of the Russian Academy of Sciences with the participation of Minsk State Linguistic University.
In three sections on the basis of historical sources the following sublects were discussed: the beginning of the occupation period, its ideological and economic basis, the organization of partisan resistance and reconnaissance and sabotage operations, the Holocaust and murders of residents in the occupied territories, the situation of prisoners of war and civilians in various areas, museum activities during the war, the fate of cultural heritage ​​and its keepers in war and post-war times.