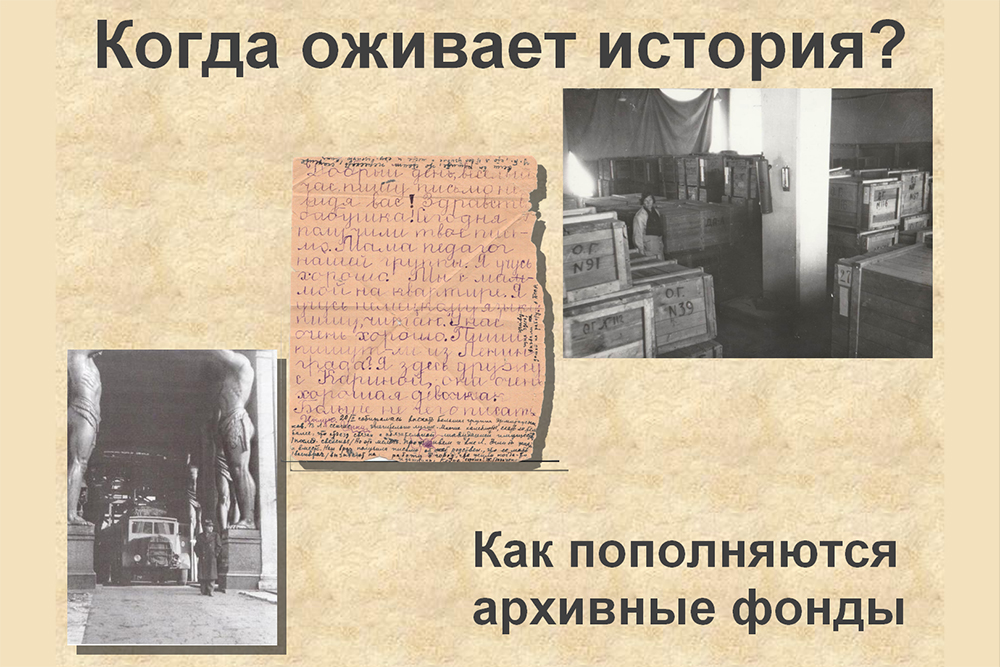 On the eve of the Victory Day, the issue of searching and identifying pages of personal history that complement the macrohistory of the Fatherland is especially relevant for educating the younger generation of interest and respect for historical memory. Within the framework of the agreement between St. Petersburg Institute of History of the Russian Academy of Sciences and the gymnasiums of the Petrogradsky district under the program "The Faculty of Social Sciences" on May 5, 2022, Doctor of History. Yu.Z. Kantor gave a lecture "When does history come to life? How archival funds are replenished".
Yu.Z.Kantor shared her experience in studying plots related to the fate of cultural values ​​and their keepers during the Great Patriotic War. Thus, in the course of one of these projects, letters from Hermitage employees who were evacuated to Sverdlovsk, where the exhibits were sent, were found in personal collections. These ego-documents, which made it possible to reconstruct the details of everyday life and the work of Leningrad art critics and their colleagues in the Urals, were preserved by Sverdlovsk TV director Zoryana Rymarenko, who in the post-war period created films about the Hermitage: a kind of "memory broadcast". And the letters from the children of the Hermitage workers, who were evacuated in a boarding school in the Molotov Region (Permsky Kray), identified by the author of the lecture, made it possible not only to learn the everyday details of their stay, but also to find out ways to preserve cultural memory. After all, these testimonies were collected by a caring person – a school teacher Tamara Mikheeva, who thus passed on historical memory to students of post-war generations. Today, these invaluable testimonies of the intertwining of people's destinies, museum-evacuation everyday life and history are kept in the Scientific Archive of Manuscripts and Documentary Fund of the State Hermitage.
At the lecture, which aroused the genuine interest of the audience, as evidenced by the large number of questions to the author, Yu.Z. Kantor paid special attention to how one should learn to extract information from the most seemingly insignificant strokes, how journalism helps to collect information about destinies people involved in a particular historical plot, to identify and attribute the personal documents of eyewitnesses, and how, sometimes in an incredible way, a connection is found between the events of personal and global history.