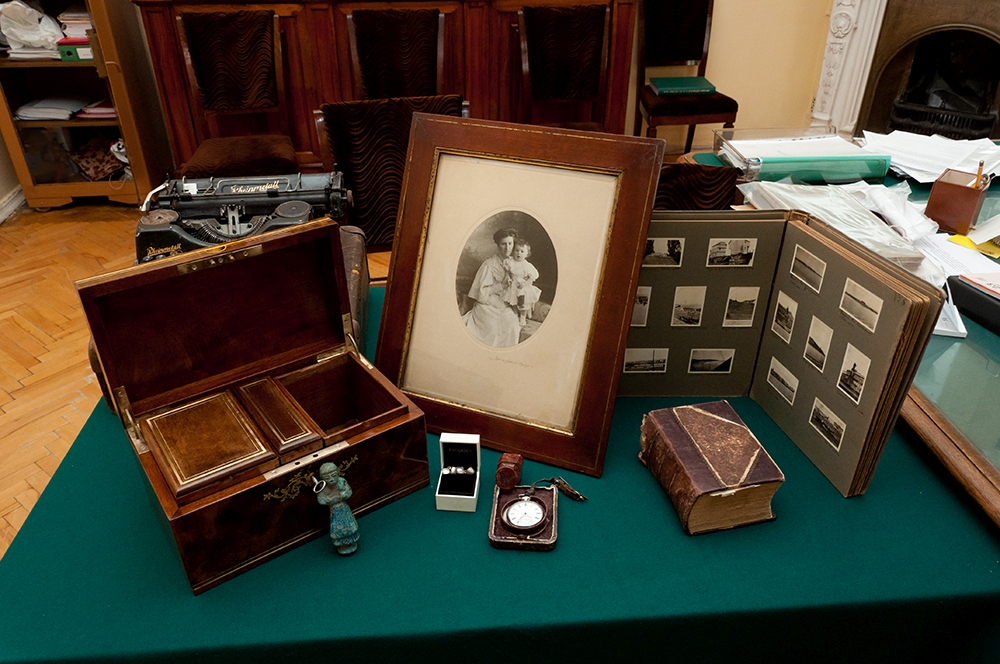 At the meeting of the Second Likhachev Readings on April 14, 2022, a ceremony was held to donate the memorial items of Nikolai Petrovich Likhachev and his entourage to St. Petersburg Institute of History of the Russian Academy of Sciences for the organization of a memorial room in his memory. The virtual exhibition presents photographs of these gifts.
The academician's granddaughter Natalya Alekseevna Kondratova handed over her grandfather's personal belongings: nacre cufflinks, a pocket watch, as well as personal belongings of N.P. Likhachev's wife Natalya Gennadievna: a letter seal, an elegant travel box made of walnut root with inlay. A separate complex consists of items from the Likhachev family service: a dish, a plate, a silverware.
Two family photo albums are of particular value. They incorporate photographs taken by the contact method in 1914-1915, which depict events related to the First World War, as well as Russian estate views.
N.P. Likhachev's relative Vasily Nikolaevich Nenarokov handed over a photograph of Natalya Gennadievna Likhacheva with her son Alexei in her arms, which was originally located in the house at Petrozavodskaya 7 and now, thus, has returned home after a century.
The granddaughter of a friend, colleague and relative of the academician of the famous Kazan historian S.I. Porfiriev, Irina Vasyanovna Porfiryeva, presented a selection of reprints of her grandfather's articles. Their topics are close to the scientific interests of N.P. Likhachev. This is the second gift of I.V. Porfiryeva. At the First Likhachev Readings, she handed over three letters from the scientist S.I. Porfiriev.
An unusual and valuable ceramic ushebti figurine handed over by N.A.Kondratova is an imitation of an ancient Egyptian fine sculpture. Undoubtedly, we have before us evidence of the collecting activity of N.P. Likhachev. These and other gifts are presented at the online exhibition.